ProductContent
Magnesium Glycinate 250 Mg
$24.95
You Save:

$-24.95

(100%)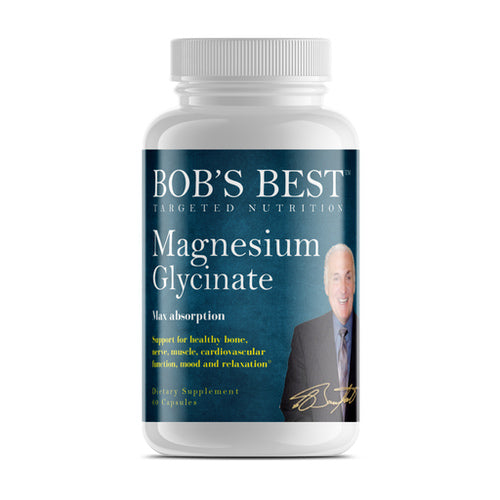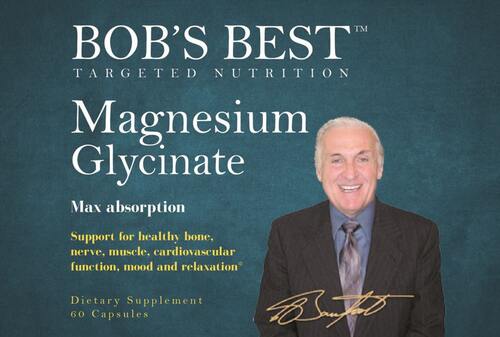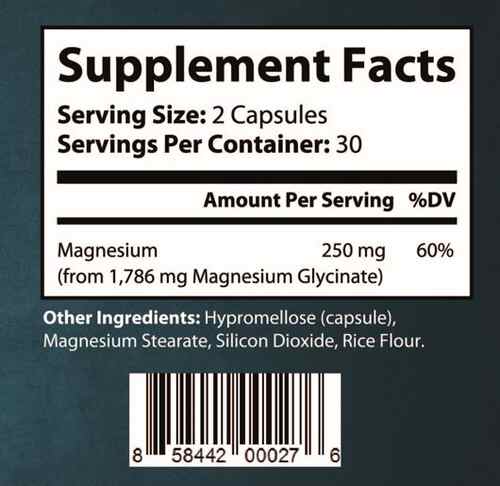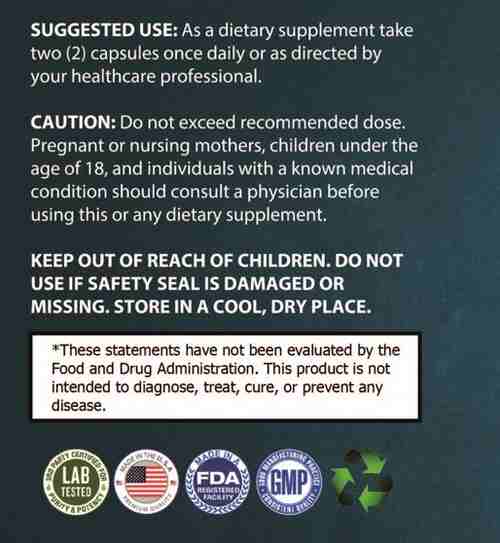 Magnesium Glycinate 250 Mg
$24.95
You Save:

$-24.95

(100%)
Product Description
Description
Bob's Best Magnesium Glycinate Supplement - Boost Your Well-being
Discover the ultimate solution for maintaining your overall health and well-being with our Premium Magnesium Glycinate Supplement. Specially formulated to provide you with the highest quality magnesium in its most bioavailable form, this supplement is designed to support your body's various functions and help you achieve a balanced and healthier lifestyle.
Key Features:
Superior Absorption: Our Magnesium Glycinate is carefully crafted to ensure maximum absorption by your body. The glycinate form is gentle on the stomach and readily absorbed, allowing you to experience the full benefits of this essential mineral without digestive discomfort.

Enhanced Relaxation: Magnesium is known for its calming and stress-reducing properties. By incorporating Bob's Best Magnesium Glycinate into your daily routine, you can experience improved sleep quality, reduced anxiety, and a greater sense of relaxation.

Muscle and Bone Health: Magnesium plays a crucial role in maintaining strong bones and muscles. Regular use of our supplement can support bone density and muscle function, making it an excellent choice for athletes and those concerned with maintaining their physical well-being.

Heart Health: Magnesium is essential for cardiovascular health. By taking this supplement, you may help regulate blood pressure, support healthy heart rhythm, and reduce the risk of heart-related issues.

Mental Clarity: Magnesium is also linked to improved cognitive function. Experience better focus and mental clarity, making it easier to tackle your daily tasks and challenges.

Premium Quality: We take pride in providing you with the highest-quality Magnesium Glycinate, made in the U.S.A, sourced from trusted suppliers and manufactured in a state-of-the-art FDA registered facility using Good Manufacturing Practices. Our product is Non-GMO and free from unnecessary additives and fillers, ensuring purity and effectiveness.
Make the smart choice for your health and well-being by incorporating Bob's Best Magnesium Glycinate Supplement into your daily routine. Whether you're an active individual seeking improved muscle performance or someone looking for overall health support, our product is designed to help you achieve your goals.
Invest in your health today and enjoy the numerous benefits of magnesium in its most bioavailable form. Embrace a healthier, more balanced you with our Premium Magnesium Glycinate Supplement.
Experience the difference – order now!
*These statements have not been evaluated by the Food and Drug Administration. These products are not intended to diagnose, treat, cure, or prevent any disease. Individual results may vary. Check with your physician before beginning a supplement program.
Sore Muscles Gone!
this magnesium supplement is magic!!! sore muscles and spasms are no longer a problem. i love this stuff!
Thanks Britt, one of our newest products! We love Magnesium Glycinate - The benefits are amazing! 90 percent of the population is deficient. Everyone should be taking additional Magnesium each day. Thanks for your comment!