ProductContent
Barefoot's Probiotics
$25.95
You Save:

$-25.95

(100%)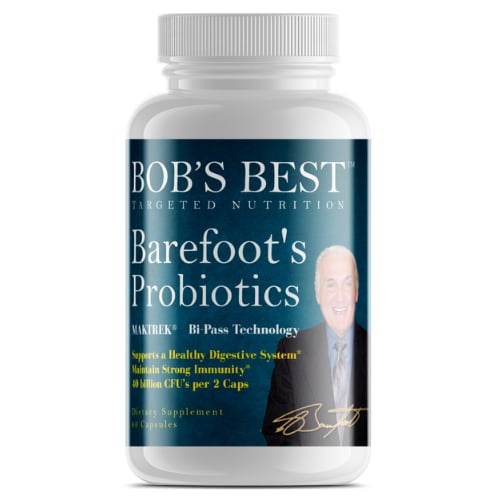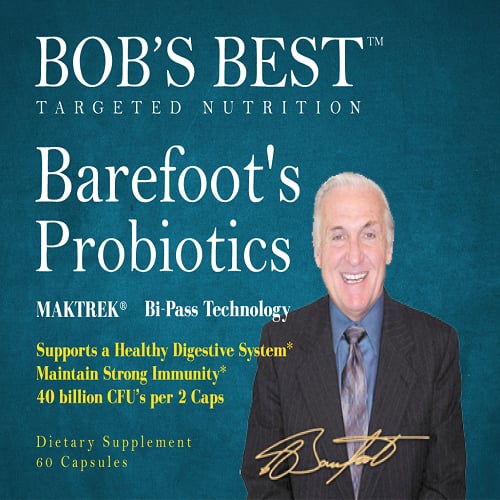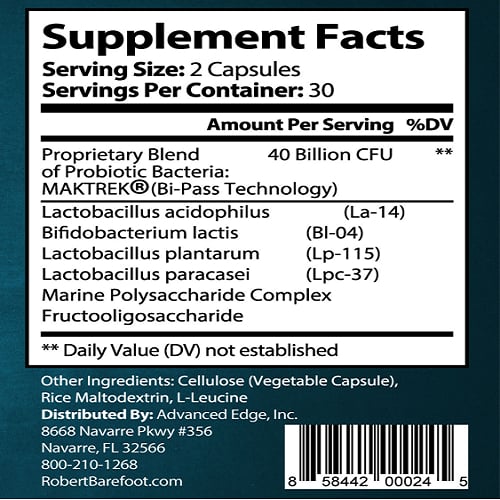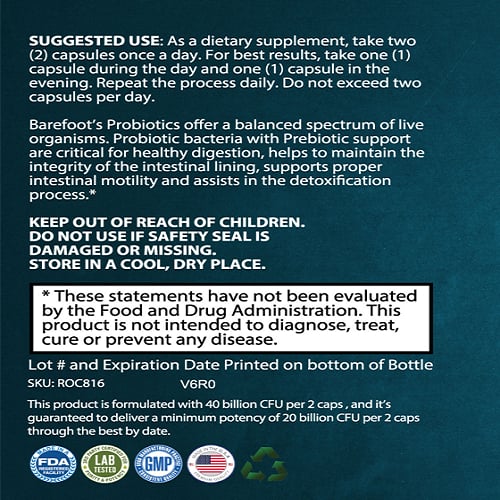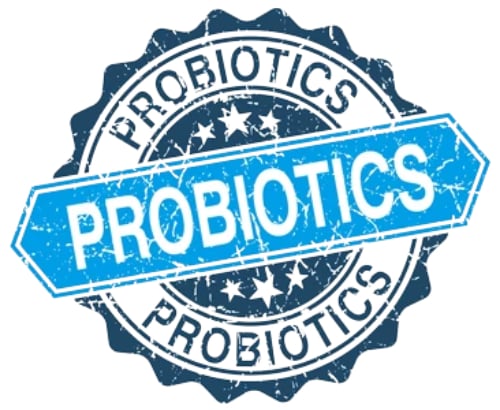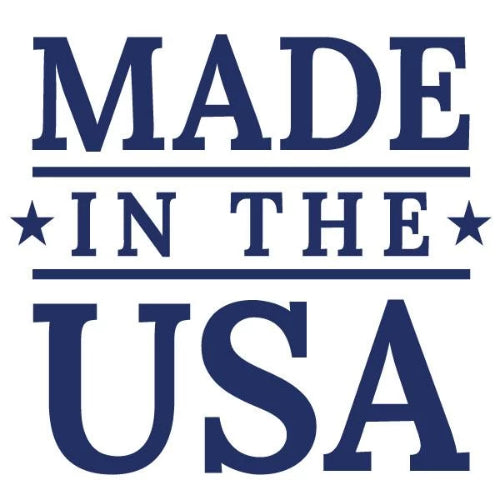 Barefoot's Probiotics
$25.95
You Save:

$-25.95

(100%)
Product Description
Description
Bob's Best Targeted Nutrition - Barefoot's Probiotics
Barefoot's Probiotics offer a balanced spectrum of live organisms. Probiotic bacteria with prebiotics are protected by the highly effective Maktrek Bypass Technology to allow the probiotics to be released in the intestinal tract where they are needed and allowed to flourish.
Probiotics and Prebiotics are critical for healthy digestion, helps to maintain the integrity of the intestinal lining, supports proper intestinal motility, and assists in the detoxification process.*
Barefoot's Probiotics use Maktrek Bypass Technology to ensure that your probiotics are alive and well to get to your intestinal tract where they are needed. The Maktrek process creates a protective layer around the probiotics so that they are protected from the stomach and allowed to be released into the intestinal tract and then be released into the body.
Probiotics are used to help with numerous issues within the body. It's not how much you take; it all depends on getting it to the right place. These quality ingredients reach your system in the correct location, intact and ready to go to work.
Our 4 Strains Of Probiotics Are:
Lactobacillus acidophilus – naturally found in the intestinal tract and helps in maintaining the intestinal flora numbers.
Bifidobacterium Lactis – known for its ability to helps to stimulate the body's immune response.
Lactobacillus Plantarum – known for its benefits in helping support the digestive tract.
Lactobacillus Paracasei – known for helping boost energy levels.
Barefoot's Probiotics Can Help With The Following:
Help your body digest food*
Support a healthy digestive system as a whole*
Keep bad bacteria from getting out of control*
Help support the cells that line your gut to prevent bad bacteria from entering your blood*
May help boost your immune system*
Easily Absorbed*
Key Points:
A Bob's Best Targeted Nutrition Supplement
40 billion CFU's per serving.
Contains 4 beneficial strains of Probiotics and beneficial Prebiotics.
Manufactured in a GMP Compliant, FDA registered lab in the USA.
World Class Customer Service
90 Day Money Back Guarantee
Supplement Facts
Serving Size: 2 Capsules - Servings per container: 30
Suggested Use: As a dietary supplement, take 2 capsules per day.
For best results, take one (1) capsule during the day and one (1) capsule in the evening.
Repeat the process daily or as directed by a healthcare professional. Do not exceed two capsules per day.
*These statements have not been evaluated by the Food and Drug Administration. These products are not intended to diagnose, treat, cure, or prevent any disease. Individual results may vary. Check with your physician before beginning a supplement program.