ProductContent
pH Health Test Kit
$2.50
You Save:

$-2.50

(100%)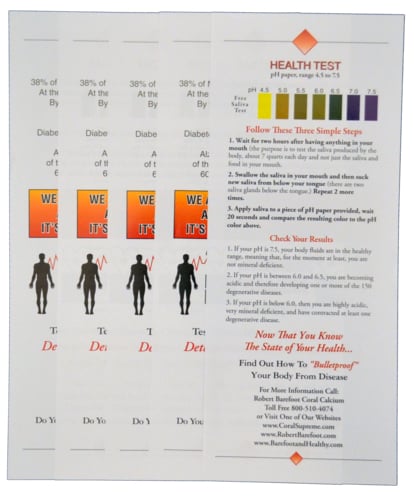 pH Health Test Kit
$2.50
You Save:

$-2.50

(100%)
Product Description
Description
WE ARE LOSING THE WAR AGAINST DISEASE.
IT'S TIME FOR A CHANGE!
Are you healthy?
Are you developing a degenerative disease?
The pH of your body is important to your overall health. Acidic buildup can cause many health related issues.
The Solution?

Coral Calcium is a natural and highly absorbable mineral supplement which is comprised of Calcium, Magnesium and 74 additional essential minerals.
These amazing natural minerals are used to buffer the acid that is created in our body through the process of living. Proving your body with an ample supply, to  ensure optimal health, is our goal.
Using this pH test kit to check your saliva can give you an idea of the condition of your body fluids.
A Simple Health Test Kit That:
Helps Determine The State of Your Health?
Test Yourself in Seconds!
You get 5 individual test kits.
Each individual health test kit comes with 3 pieces of pH paper

Use this handy and simple pH test kit
Follow the simple instructions to determine your basic pH level.

Do you want to test yourself regularly? Try our 15' pH paper roll.

* These statements have not been evaluated by the FDA. This product is not intended to diagnose, treat, cure or prevent any disease. Results may vary from person to person