ProductContent
The Disease Conspiracy
$19.95
$12.95
You Save:

$7.00

(35.09%)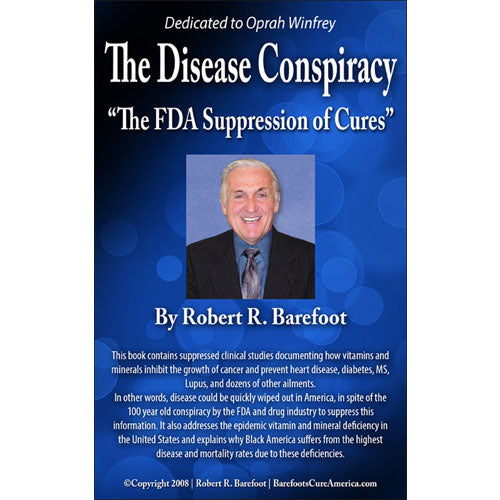 The Disease Conspiracy
$19.95
$12.95
You Save:

$7.00

(35.09%)
Product Description
Description
The Disease Conspiracy "The FDA Suppression of Cures" is written by acclaimed author and nutritionist Robert Barefoot.
This book details previously suppressed, published clinical studies by medical researchers that document the essential role of vitamins and minerals in the prevention and inhibition of diseases, such as, cancer, heart disease, MS and lupus.
Barefoot explains his belief that disease in America could be eliminated with calcium and other natural vitamins and minerals despite the resistance by the FDA and drug companies and their obvious desire to suppress these vital findings. He has dedicated this work to Oprah Winfrey.
Books
The service and integrity of the company, content of the books is excellent. Looking forward to trying the products.