ProductContent
Turmeric Curcumin & Ginger With Bioperine®
$27.95
You Save:

$-27.95

(100%)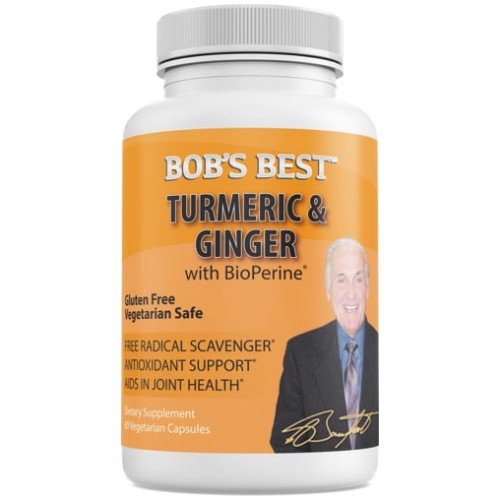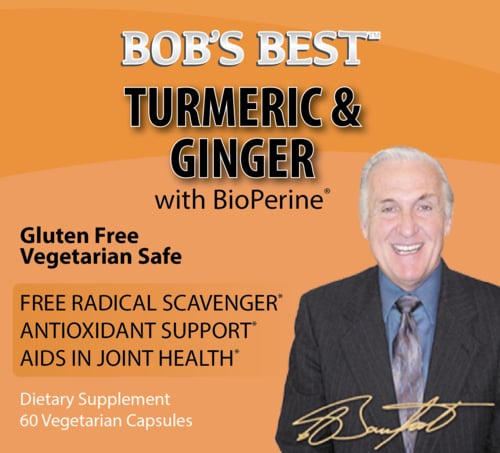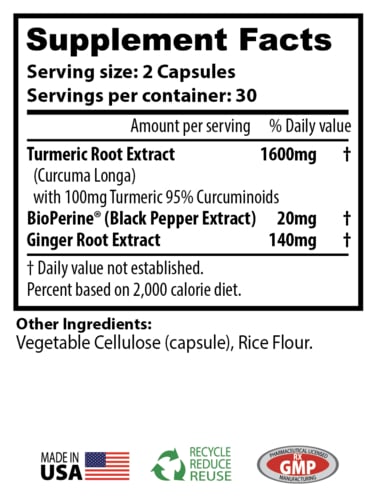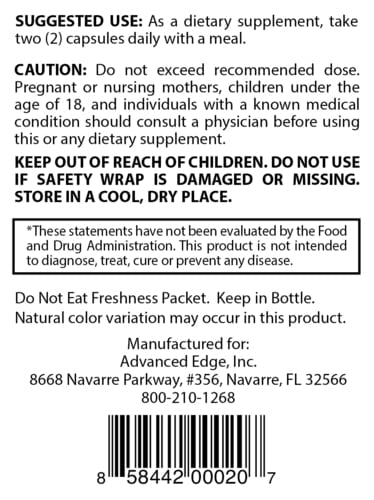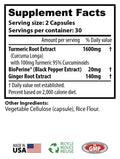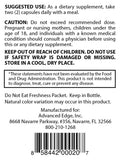 Turmeric Curcumin & Ginger With Bioperine®
$27.95
You Save:

$-27.95

(100%)
Product Description
Description
Bob's Best Turmeric Curcumin & Ginger with Bioperine® - The perfect compliment to the Bob's Best Supplement Line. A powerful antioxidant and inflammation reducing supplement with 95% Curcuminoids, Soothing Ginger and Bioperine® Black Pepper Extract.*
Turmeric Can Help With The Following:
Joint Pain Relief*
As A Free Radical Scavenger - Powerful Antioxidant*
Supports Immune and Digestive Health*
Supports Heart Health And Brain Function*
Anti-Inflammatory Activity*
Curcumin[1] is a natural chemical derived from turmeric and act as a free radical scavenger, provide antioxidant support, aid in joint health and can reduce inflammation that can be the cause of pain and stiffness. The amount of Turmeric in our supplement is 1600 mg which is over 3 times the standard tested dosage of 500 mg.
Ginger[2] has a long history and has been used for over 5,000 years. It is valued for its many beneficial properties including supporting cardiovascular health, reducing gas and improving digestion, relieving nausea, and may help in relieving pain and reducing inflammation. 
Black pepper extract boosts absorption of curcumin by up to 2,000%
Bioperine® is a proprietary form of piperine, which is a component in black pepper[3] (Piper nigrum L.) that significantly improves the bio-availability by as much as 2,000%  of turmeric curcumin. Bob's Best Turmeric & Ginger supplies a full 20 mg of Bioperine® per serving. More than you get in any other competing product.
Turmeric and Ginger with Bioperine® (Black Pepper Extract) is a powerful combination. 
Key Points:
Formulated by Robert Barefoot
1600 mg High Quality Turmeric with 140 mg Ginger and 20 mg Bioperine®
Contains 95% Curcuminoids
Manufactured in a GMP Compliant, FDA Registered Lab in the USA
World Class Customer Service
90 Day Money Back Guarantee
Sources
1. https://www.ncbi.nlm.nih.gov/pmc/articles/PMC5664031/
2. https://www.ncbi.nlm.nih.gov/books/NBK92775/#ch7_sec1
3. https://www.ncbi.nlm.nih.gov/pubmed/23625885
*These statements have not been evaluated by the Food and Drug Administration. These products are not intended to diagnose, treat, cure, or prevent any disease. Individual results may vary. Check with your physician before beginning a supplement program.
Effective stuff! I sleep better knowing it's working for me! I don't have the leg aches I had once!
Supplement order
Great service and product